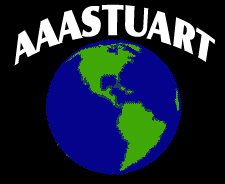 WHAT OUR COMPANY CAN DO FOR YOU...
AAAStuart ( ASI #30019) has been in the sportswear and specialty manufacturing business for over 29 years. We maintain offices in Hong Kong, Taipei, and Orlando, Florida. Our factories and staff have been carefully selected and have been manufacturing beautiful products for much of our 29 years. Quality assurance is 100% guaranteed! You will never have a surprise.
If IMPORTING or BUYING DIRECT interests you, please take a few moments to read about our company. Consider our unique product lines and services for your Specialty Products. Our manufacturing and delivery time is a fraction of other import companies.
CUSTOM MADE EMBROIDERED EMBLEMS / PATCHES / CHENILLES / APPLIQUÉS / BULLION / WOVEN LABELS are perfectly suited for caps, jackets, jacket backs, sweats, golf shirts, convention favors, resort souvenirs (carded or packaged if you desire), public service organizations and commercial employee uniforms. All available with HEAT SEAL, PLASTIC BACK or STICK ON backings. We can boast at having the absolute finest quality in the industry with the best in new technology and equipment. Our Managing Director in Taiwan is the founder of the Taipei County Embroidery Association. Completed HEADWEAR programs with emblems or direct embroidery is also available to you.
CUSTOM MADE RECOGNITION JEWELRY. Being suited for uses equal to those of embroidered emblems, LAPEL PIN usage has soared for numerous applications. All our jewelry styles, PINS, PENDANTS, CHARMS, KEY CHAINS, and MAGNETS are done in various castings of brass, stainless steel, copper, or pewter with gold, silver, enamel or antiquing finishes. CLOISONNE, DIE STRUCK, SOFT ENAMEL, SCREEN PRINTED and PHOTO ETCHED are a few of your choices. A variety of pin backs are used, and all items are perfectly molded. Every shape is expertly done. Any jewelry item you have been familiar with...we do...and then some. If you need creativity, our design department is one of the best.
Our NECK LANYARD manufacturing facility will allows us to provide low prices and excellent quality. Minimum quantities for EMBROIDERED LANYARDS is 2,000 pcs. and for screen printed LANYARDS only 1,000 pcs. Every imaginable hardware configuration, width, color, material, safety breakaways, detachable key chains, retractables, and clear I.D. HOLDERS are available. We also have developed SUN and EYEGLASS holder lanyards as well as a lanyard with a CHAPSTICK LIP BALM attached.
UNIFORMS / ACTIVE SPORTSWEAR. Call upon our custom sportswear department at any time for high quality garments that meet any budget. We can satisfy your customer's CORPORATE, UNIFORM or SPECIAL EVENT need with confidentiality. T-SHIRTS, GOLF SHIRTS, HEADWEAR and OUTERWEAR is available from dozens of our BRAND NAME mills to give your customer complete satisfaction. Our decoration facilities will provide you with choices of SCREEN PRINTING, DIRECT EMBROIDERY and EMBROIDERED LAZER EMBLEMS.
STOCK INVENTORIES are available for immediate shipping. These include GREEK / FRATERNAL emblems and jewelry, NASA patches, neck lanyards and jewelry, BLANK LANYARDS for printers, STATE FLAG PINS, PATCHES AND STATE RELATED ICONS, OVER 5,000 OTHER NOVELTY PINS, OVER 3,000 STOCK PATCHES/APPLIQUES, PATRIOTIC USA FLAG patches, pins, 3' x 5' FLAGS w/ grommets, key chains, REPEATING FLAG neck lanyards, STRAW GAMBLER HATS and HAT BANDS.
---